2014 Annual Meeting, Dinner, and Reception
As usual, our annual meeting, dinner, and reception will be held in conjunction with the 2014 USCAP Annual Meeting. This year, we will be meeting in San Diego, California.
IACP Annual Meeting & Dinner:
IACP Reception & Best Abstract Award Ceremony: [Link to Schedule]
Location: Aqua 309, Hilton San Diego Bayfront Hotel (please note that the reception has been moved to Aqua 309)
Date: Monday, March 3, 2014
Time: 9:00-11:00 pm
Cost: Free
Welcome!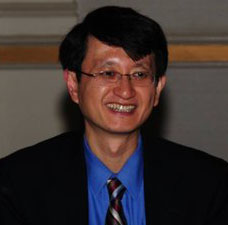 Matthew M. Yeh, M.D., Ph.D. President of IACP 2013 Fall News Letter
The International Association of Chinese Pathologists (國際華人病理學會) is a professional association for pathologists. Our membership includes pathologists from different disciplines and fields, both in clinical and research arena. IACP provides its members with professional support and opportunities, allowing them to keep abreast of innovations in pathology and laboratory medicine.
Our annual meeting is typically held as a side meeting in conjunction with the annual meeting of the United States and Canadian Academy of Pathology (USCAP).
Our services and benefits are designed to enhance your professional growth and keep you up-to-date on upcoming trends and leading-edge developments. Through our web site, members can know about society meetings, post and search jobs, and assess our directory. We also provide an educational website for our trainee members, the IACP-Online Publication (IACP-OLP). Best of all, our membership covers all subspecialties in pathology and presents an opportunity to interact, collaborate and exchange ideas. Members have opportunities to share their knowledge with others and to learn from them as well. IACP offers its members awards, recognition, networking, and much more. We hope you have an exciting experience as a member, taking an active role in structuring the future of the profession!
Membership dues and generous donations have enabled our society to continue growing every year. Our activities include a yearly meeting and the organization of workshops. Scholarships and awards are also offered to pathologists beginning their careers. We provide useful support for those interested in exchanging clinical study materials and to those willing to serve as consultants or share their knowledge.
Click here for new membership application. Click here for membership due form.