Our 2017 Annual Meeting & Dinner- Dr. Howard Wu

Dear IACP Members and Friends,

It is time to kick off the 2017 IACP Best Abstract Award. Any pathology trainee of Chinese ethnic origin who have first-authored research abstracts accepted for presentation at the 2017 USCAP Annual Meeting are eligible to apply. The applicants do not need to be a member of IACP. The winners (1st, 2nd, 3rd place and 2 honorable mentions) will be announced and presented with award money ($500 for 1st, $200 for 2nd and $100 for 3rd place) and certificates at our reception on Monday, March 6, 2016, 9-11 am. Please encourage any eligible residents or fellows you know to apply. The application should be submitted to the Secretary of IACP- Jeff Chang, MD (C.Jeff.Chang.MD@Flhosp.org) before Friday, February 24, 2017.

The 2017 IACP Annual Meeting & Dinner will, tentatively, take place at Fogo de Chao Brazilian Steakhouse (849 E. Commerce St. #393, San Antonio Tx 78205/ phone: 210-227-1700) on Sunday, March 5, 2017, 5:30-7:00 pm. The cost for the dinner will be US $70 per person for members and guests and it will be $30 for trainee. It is difficult to find a decent Chinese restaurant near the convention center. The price for Fogo de Chao is a little bit higher than our usual $50 annual dinner, but I feel like it is worth to pay extra to have an enjoyable evening. We will try to keep it at $50 next time.

The IACP membership due for 2017-2018 will be $30. Most of the income from membership is spent on the best abstract award. The IACP currently is a 501 C-6 organization and the donation might not be tax-deductible, but we need our members and friends continue to support next generation of pathologists of Chinese ethnic origin. All the officers are volunteers and every penny of our income is spent on a good course. The cost to maintain a 501 C-3 charitable organization, (for which the donation will be tax-deductible) is going to be much higher, but our executive board will look into it.

IACP is also working with Taiwan Society of Pathology (TSP) ( www.twiap.org.tw ) for an academic symposium to celebrate 50th Anniversary of TSP on May 20-21, 2017 in Taipei, Taiwan. The theme is "Then, Now, and Future of Pathology- from Naked Eyes to Precision Medicine". Our member, past president, and newly elected Academician of the Academia Sinica, Professor Tzyy-Choou Wu will give a keynote speech during this meeting.

T

he holiday seasons are near. All the IACP officers wish you and your family a Happy Holidays!

|Sincerely yours,

Howard Wu

President of IACP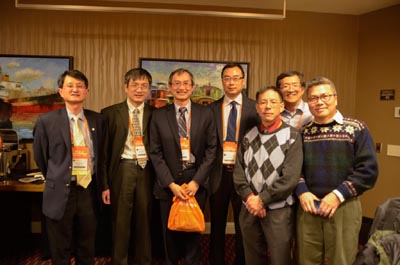 Click here to see more
IACP Best Abstract Award and IACP Best Abstract Award for Young Pathologists from Taiwan
IACP Best Abstract Award
Pathology trainees (a resident, fellow, or student) of Chinese ethnic origin who have first-authored research abstracts accepted for presentation at the USCAP Annual Meeting are eligible for the IACP Best Abstract Award. Up to three awards are given each year. The winners will be informed by e-mail and will receive a cash award of $500, 200, and 1$100 for the 1st, 2nd, and 3d place winner respectively and also a certificate and permanent recognition at IACP website.
IACP Best Abstract Award for Young Pathologists from Taiwan
Pathology trainees (a resident, fellow, or student) or young pathologists within 5 years of finishing training from Taiwan who have first-authored research abstracts accepted for presentation at the USCAP Annual Meeting are eligible. Up to two awards are given each . Up to two awards are given each year.
ABSTRACT AWARD COMMITTEE: The IACP Abstract Award Committee consists of a panel of reviewers from all sponsoring societies.
ELIGIBILITY: To be eligible for award consideration, you must be a first-author of a USCAP-accepted abstract (for either poster presentation or plenary talk), a resident, fellow, or student of Chinese ethnic origin. You do not need to be a member of IACP, and eligibility is not dependent on your age or the location of your institution. The abstract must be original work (at least 50% of work completed by the person seeking this award). All withdrawn abstracts or abstracts that undergo a major change between submission and presentation will be disqualified by default.
APPLICATION: For 2017 USCAP meeting, the deadline for the applications of both awards is Friday, Feb 17, 2017. Please submit your application (abstract, abstract publication #, CV, and contact information) to the secretary of IACP- Jeff Chang, M.D. (C.Jeff.Chang.MD@Flhosp.org)
Joint IACP-TSP Symposium, May 20-21, 2017, Taipei
To celebrate the 50th anniversary of Taiwan Society of Pathology (TSP), International AssociIATION OF Chinese Pathologists (IACP) will co-sponsor a two-day symposium with TSP on May 20-21, 2017.
"Then, Now, and Future of Pathology- From Naked Eyes to Precision Medicine"
Location: National Taiwan University Hospital International Convention Center . 台大醫院國際會議中心
Congratulations to Professor Tzyy-Choou Wu
Congratulations to Professor
Tzyy-Choou (
TC) Wu who was elected
as an Academician of the Academia Sinica
during the 32nd Convocation of Academicians, Academia Sinica on July 7th, 2017.
This is considered the highest honor in academia in Taiwan. Professor TC Wu was one of 20 new Academicians and 2 Honorary Academician that were elected.
TC has been a long time member of IACP and was past President in 2001-2003. TC is Professor of Pathology, Oncology, Obstetrics and Gynecology, and Molecular Microbiology and Immunology, The Johns Hopkins University School of Medicine, Bloomberg School of Public Health Research and Director of Gynecologic Pathology Pathologist, The Johns Hopkins Hospital. Professor TC Wu is a renowned international expert and researcher in HPV related cervical cancer. He is Director of The Cervical Cancer Research Lab and his research projects including the development of DNA and RNA HPV vaccine, et cetera. (http://pathology.jhu.edu/tclab/members.cfm
)
The International Association of Chinese Pathologists (國際華人病理學會) is a professional association for pathologists. Our membership includes pathologists from different disciplines and fields, both in clinical and research arena. IACP provides its members with professional support and opportunities, allowing them to keep abreast of innovations in pathology and laboratory medicine.
Our annual meeting is typically held as a side meeting in conjunction with the annual meeting of the United States and Canadian Academy of Pathology (USCAP).
Our services and benefits are designed to enhance your professional growth and keep you up-to-date on upcoming trends and leading-edge developments. Through our web site, members can know about society meetings, post and search jobs, and assess our directory. Best of all, our membership covers all subspecialties in pathology and presents an opportunity to interact, collaborate and exchange ideas. Members have opportunities to share their knowledge with others and to learn from them as well. IACP offers its members awards, recognition, networking, and much more. We hope you have an exciting experience as a member, taking an active role in structuring the future of the profession!
Membership dues and generous donations have enabled our society to continue growing every year. Our activities include a yearly meeting and the organization of workshops. Scholarships and awards are also offered to pathologists beginning their careers. We provide useful support for those interested in exchanging clinical study materials and to those willing to serve as consultants or share their knowledge.
Click here for new membership application. Click here for membership due form.